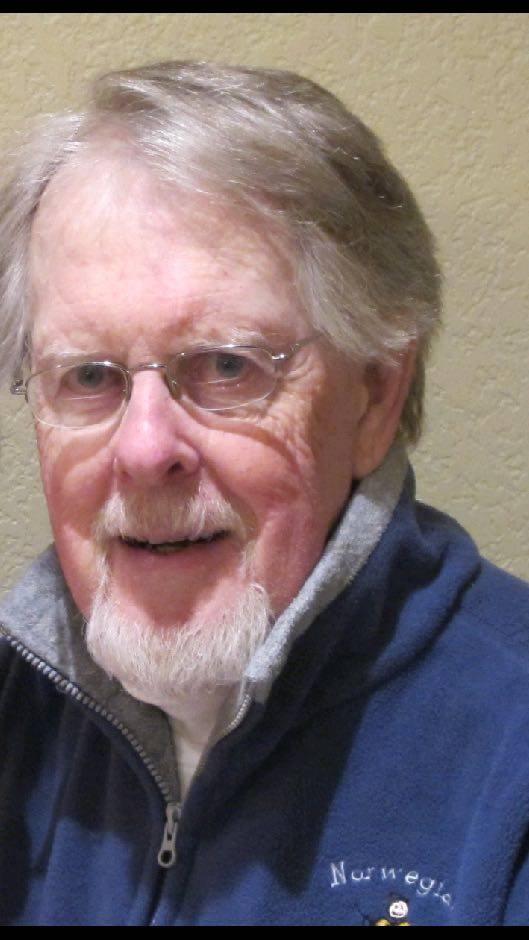 John Carl Ylvisaker
September 11, 1937 – March 9, 2017
John Carl Ylvisaker, age 79, of Waverly, died peacefully at his home in Eisenach Village in Waverly from complications of Multiple System Atrophy and cancer on March 9, 2017.
John was born September 11, 1937 in Fargo, North Dakota to Carl and Marie (Sletvold) Ylvisaker.  He attended elementary school in Moorhead, MN and graduated from Oak Grove Lutheran High School in Fargo.  He earned his Bachelor's degree in music and history in 1959 from Concordia College (Moorhead) where his mother was the librarian and his father had chaired the Religion Department.  
John taught high school music at Morris, MN and Hawley, MN before becoming a Parish Assistant at St. Philip's Lutheran Church in Fridley, MN.  He then pursued a Master's degree at the University of MN.  During the remaining years of the 1960's, John traveled the country extensively as part of the civil rights movement in the United States.  He was heavily influenced by Pete Seeger during those years.  He returned to teaching for 4 years – this time with junior high students in Buffalo, MN.
He then spent 15-years working for the American Lutheran Church (ALC) in Minneapolis in their Media Services division.  He became the "composer-in-residence" for their projects and helped produce the award-winning radio show, SCAN.  He was also the Music Director at Reformation Lutheran Church in St. Louis Park, MN during those years.  The merger of the ALC with the LCA resulted in the ELCA (Evangelical Lutheran Church in America) and the elimination of the Media Services center in the cities.  John then began criss-crossing the country to lead music at churches, conferences, retreats, and conventions, including National Youth Gatherings for which he wrote the theme songs for four decades.
He was renowned for his paraphrase of biblical text and theological astuteness, as well as his ability to recognize readily singable tunes from all around the world. His workshops provided a message of encouragement to both clergy and laity that worship music on all but high feast days is to be easily sung by those in the pews, making the service participational by all instead of a performance by a few. He wrote more than a thousand songs to enhance this effect.  He is perhaps best known as the composer of  "I Was There to Hear Your Borning Cry."
He is survived by his wife, Fern Kruger; son Jon-Marc Ylvisaker (wife Theresa) of Edina, MN; son Jeremy Ylvisaker (wife Sarah and grandchildren Mijah and Jonny) of Minneapolis, MN; son Matthew Ylvisaker (fiancé Dominique D'Acquisto) of Edina, MN; and their mother, Amanda Ylvisaker of Edina, MN.  He is also survived by stepsons Grant Brase (wife Jamaica) and Jeremiah Brase, of Waverly; and daughter-in-law Rondalyn Brase (and grandchildren Jared Krull, Jordan(wife Kara) Krull, and Haley Brase) of Shell Rock, IA.  Survivors also include sister Ruth Foster of Des Moines, IA;  sister Mary (Roy) Nilsen of Des Moines, IA; sister-in-law Kathy Ylvisaker of Albany, NY; brother-in-law Nils Svedal of Sogndal, Norway; sister-in-law Rosalia (Oliver) Dewald of Wilton, ND; brothers-in-law David (Debby) Kruger of Tampa, FL; Richard Kruger of Angola, IN; Brian (Constanza) Kruger of Beavercreek, OH; and James (Jacqie) Kruger of Almo, KY; as well as numerous nieces and nephews, his cousins, close friends, and Eisenach Village family.
He was preceded in death by his father (in 1945); his mother (in 1976); his brother Mark (in 2009) of Albany, NY; his sister Kristi (in 2010) of Sogndal, Norway; his brother-in-law Bill Foster (in 2008); and his stepson, Paul Brase (in 2015) of Shell Rock, IA.
The family requests that in lieu of flowers, memorials or gifts be given to Habitat for Humanity, the Northeast Iowa Food Bank, or Cedar Valley Hospice.
In keeping with his life-long ministry, John has created his own memorial service which will be held in the Chapel on the Wartburg College campus in Waverly on April 26, 2017 at 1:00 PM.  The service will be live-streamed via www.wartburg.edu/knightvision and will also be archived for those who are not able to attend in person.  Visitation with the family is scheduled for April 25, 2017, 4-8 PM at the Kaiser Corson Funeral Home in Waverly..